Something went wrong, please contact us!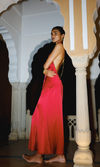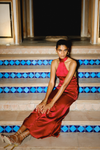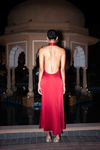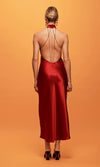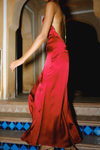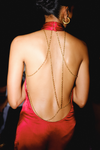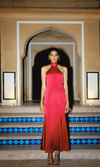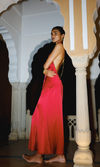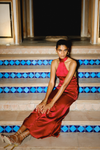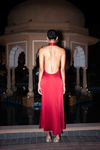 RADHIKA DRESS GARNET
Crafted in 100% Peace Silk
Immerse yourself in opulence with Radhika. This open-back dress, in vivid garnet red, emulates the vibrant colors of extravagant Jaipur palaces. Crafted from our lightweight, silky fabric, it drapes elegantly to display an open back. Gold chain details add a touch of regal allure while the invisible side zipper ensures a seamless fit.
Fabric & Fit Details: This fabric is light-weight and silky smooth. Radhika features a side zipper and three buttons at the nape of the neck for closure. The open back has a gold chain detail. Handle with care.
Our garments are entirely handmade. Since our fibers are natural and most of the fabrics are handwoven, there can be slight inconsistency within each garment. Slight color variations, slight spec difference (within tolerance) and fabric texture are normal. As much as we want our products to be 100% perfect and consistent, it's not always possible. We have learned to love these qualities as they mimic earth's own inconsistent, yet naturally perfect beauty.
Fabric Content: 100% Peace Silk
Fabric Country of Origin: India.
Fabric Production: Crafted in 100% handloom-made fabric. We partner with fabric production artisans who use traditional, manual handlooms that don't require electricity to preserve the art of fabric making, support small villages with generations of fabric-making knowledge, and reduce our carbon footprint.
Garment Production: This garment is sewn ethically by our outsourced seamstress team in Delhi, India. This small woman-owned factory is an ethical and safe working environment for all employees and is GOTS certified and compliant.
Sustainable Fabric Details: This signature Savannah Morrow Ahimsa Silk (Peace Silk) is made on handloom, by our weaving team in India. Standard silk takes 1700 to 2000 cocoons boiled alive to make one silk dress. Our fabric suppliers harvest the silk cocoons only after the silk worms have left the cocoon. No silkworms were killed in the process of making this garment.
Care Details: Dry clean only.
FREE express worldwide shipping on all orders over $600 USD.
FREE standard shipping and FREE returns on all US orders over $250 USD.
Bio-degradable & compostable packaging.
For further information please read our shipping and return policies, located at the bottom of our site.

Dark hair model, Radhika wears XS.
Model's measurements:
Height 5'9.5"
Waist 26"
Chest 32"
Hips 34"
Blonde hair model, Rosmary wears S.
Model's measurements:
Height 5'9.5"
Waist 24.5"
Chest 33"
Hips 37"