Something went wrong, please contact us!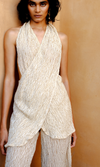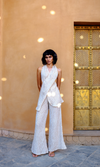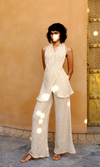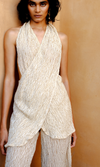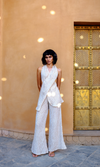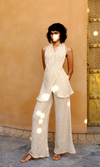 HAVELI TOP CAPPUCCINO
Crafted in 50% Turkish Cotton and 50% Linen
Haveli is a wonder, crafted from the softest fabric. Ideal for breezy days or sultry nights, it moves with you effortlessly. The versatility of the adjustable crossbody top invites endless styling possibilities, making it an essential addition to any wardrobe.
Fabric & Fit Details: The Haveli has a cross-body wrap with an adjustable front neckline and bareback. This fabric is light-weight and soft. The open weave of the fabric can snag on sharp objects. Please handle with care. Fits true to size.
Our garments are entirely handmade. Since our fibers are natural and most of the fabrics are handwoven, there can be slight inconsistency within each garment. Slight color variations, slight spec difference (within tolerance) and fabric texture are normal. As much as we want our products to be 100% perfect and consistent, it's not always possible. We have learned to love these qualities as they mimic earth's own inconsistent, yet naturally perfect beauty.
Fabric Content: 50% Turkish Cotton & 50% Linen
Fabric Country of Origin: Made on handlooms by our new weaving partners in Turkey.
Fabric Production: Crafted in 100% handloom-made fabric. We partner with fabric production artisans who use traditional, manual handlooms that don't require electricity to preserve the art of fabric making, support small villages with generations of fabric-making knowledge, and reduce our carbon footprint.
Garment Production: This garment is sewn locally in Los Angeles with our seamstress partners.
Sustainable Fabric Details: This 50% Turkish Cotton and 50% Linen fabric is woven entirely by hand by our weaving partners in Turkey. Turkish Cotton is softer than regular cotton and is held to be the highest quality cotton in the world. Its softness and durability come from the long fiber construction. It also allows for moisture-absorbing and quick-drying benefits. Linen is one of the oldest fabrics used in textile-making. The flax plant requires very little water and produces strong fibers that get softer with time.
Care Details: Hand wash in warm-cold water. Hang to dry. To keep the fabric fluffy and soft add a natural fabric softener.
FREE express worldwide shipping on all orders over $600 USD.
FREE standard shipping and FREE returns on all US orders over $250 USD.
Bio-degradable & compostable packaging.
For further information please read our shipping and return policies, located at the bottom of our site.

Radhika wears XS.
Model's measurements:
Height 5'9.5"
Waist 26"
Chest 32"
Hips 34"