Something went wrong, please contact us!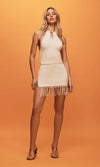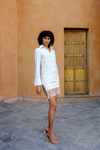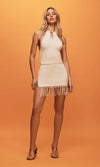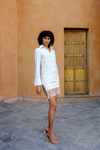 RAMBAGH MINI SKIRT CREAM
Crafted in 100% Organic Cotton GOTS certified
Introducing our new ribbed knit mini skirt through a fusion of elegance and sustainability. Crafted from 100% Organic Cotton GOTS certified, Rambagh features a chic O-shaped hip cut-out, adorned with a gold square link detail. The tassel hem adds a playful touch, while a small side slit ensures comfort and movement.
Fabric & Fit Details: Rambagh features an o-shaped hip cut out with a custom gold square link detail. The elastic waistband allows for slight stretch. Rambagh features a small side slit and tassel detail on the hem. We suggest gathering the tassels and straightening out by hand.
Our garments are entirely handmade. Since our fibers are natural and most of the fabrics are handwoven, there can be slight inconsistency within each garment. Slight color variations, slight spec difference (within tolerance) and fabric texture are normal. As much as we want our products to be 100% perfect and consistent, it's not always possible. We have learned to love these qualities as they mimic earth's own inconsistent, yet naturally perfect beauty.
Fabric Content: 100% Organic Cotton — GOTS certified
Fabric Country of Origin: Made consciously and slowly by hand by our weaving artists in India.
Fabric Production: Crafted in 100% handloom-made fabric. We partner with fabric production artisans who use traditional, manual handlooms that don't require electricity to preserve the art of fabric making, support small villages with generations of fabric-making knowledge, and reduce our carbon footprint.
Garment Production: This garment is produced by a NEW regenerative supplier & farm that the SM team recently visited on our sourcing trip. This supplier mindfully built a seed-to-sew supply chain in rural India. The team ensures respect for nature through every process that goes into creating clothing, from printing and dyeing to weaving and spinning, and eventually back to the soil. Our team was really impressed with the ethical standards, as well as how well everyone was taken care of. They go above sustainable and regenerative practices.
Sustainable Fabric Details: Organic cotton is a better and non-toxic version of cotton. There are no synthetic pesticides used, and it saves up to 91% of the water that regular cotton would need to grow. Because the need for additional treatments is minimal, there are overall lower emissions and waste associated with organic cotton production.
Care Details: Dry clean only.
FREE express worldwide shipping on all orders over $600 USD.
FREE standard shipping and FREE returns on all US orders over $250 USD.
Bio-degradable & compostable packaging.
For further information please read our shipping and return policies, located at the bottom of our site.

Rosmary wears XS.
Model's measurements:
Height 5'9.5"
Waist 24.5"
Chest 33"
Hips 37"