Something went wrong, please contact us!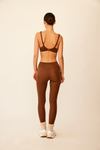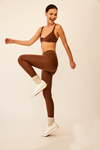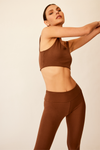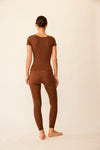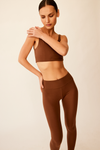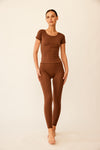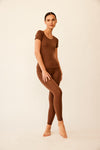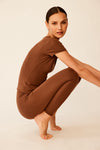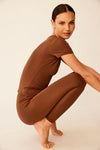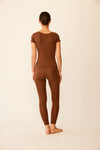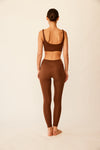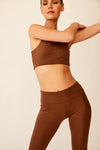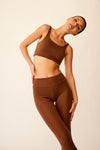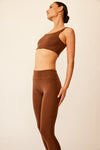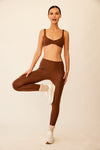 EVERYDAY LEGGINGS COCOA
Prepare for your new favorite pair of leggings. From pilates, to hot yoga, to your daily athleisure fit, our Everyday Leggings are the ultimate supportive legging. Made from our plant-based Microtencel and Elastane fabric, it supports you, while feeling like a second-skin and sculpts and smooths you like no other. The high-waist legging elongates to your ankle to pair perfectly with your favorite pair of sneakers or slides.
Smoothing

Feels like your a second-skin

Anti-irritation & great for sensitive skin

93% natural fibers to benefit skin — because who wants plastic/synthetic fibers touching their intimates?
Fabric Content: 93% Microtencel & 7% Elastane
Garment Production: Produced locally in LA at our in-house Savannah Morrow production studio next to our HQ.
Sustainable Fabric Details: Bringing the power of nature to performance wear, PYRATEX® POWER fabric introduces the functionality of synthetic fabrics in an all-natural, wood-based renewable fiber sourced from sustainably managed European forests.
The fabric's structure embraces the body's every shape in a functional, skin-caring embrace. Its contour-fitting behavior, along with its properties, makes this refreshing fabric specifically ideal for sensitive skin and for those leading an active lifestyle.
The fibers in this fabric are OEKO-TEX® certified and they originate, and are produced in Austria. Developed with various tree species, including eucalyptus, spruce, pine, birch, and beech, all fibers are grown in natural forests and sustainably managed plantations, without any chemical fertilizers or artificial irrigation.
Close to 100% of the wood and pulp is FSC® or PEFC™certified. The resulting fibers are fully biodegradable under soil and marine conditions, as well as compostable, and the water scarcity impact is 1.7 times lower than that of generic viscose fibers.
Compared to cotton, PYRATEX® saves:
- 7 KG of Carbon Dioxide per meter
- 30 L of Water per meter
- 1,4 G of Phosphate Ion per meter
Benefits:
- QUICK DRY: Keeps skin dry by rapid evaporation of sweat and water.
- SUPERIOR BREATHABILITY: Allows for a superior skin comfort.
- ANTI-BACTERIAL: Eliminates bad bacteria in our skin, preventing skin infections and bad odor.
- ANTI-IRRITATION: Fiber is proven to be compatible with human skin cells.
- COOLING EFFECT: Refreshing fabric that feels like a second-skin.
Care Details:
FREE express worldwide shipping on all orders over $600 USD.
FREE standard shipping and FREE returns on all US orders over $250 USD.
Bio-degradable & compostable packaging.
For further information please read our shipping and return policies, located at the bottom of our site.

COLOR: Cocoa