Something went wrong, please contact us!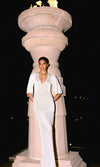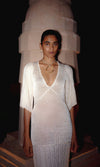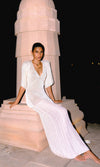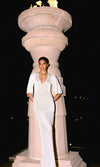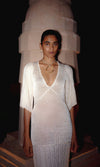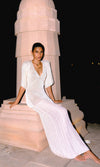 ARUSHI DRESS IVORY
Crafted in our NEW Viscose Knit - FSC® certified
The quintessential balance of allure & timelessness. Perfect for nights out in the city, Arushi exudes playful elegance. Its flattering silhouette, butterfly sleeves, and subtle sheen are a celebration of both style and sustainability.
Fabric & Fit Details: Crafted in a medium-weight knit. The Arushi dress is soft and has a subtle shine. This body-hugging silhouette can snag on sharp objects, so please handle with care.
Fabric Content: NEW Viscose Knit -- FSC® certified
Fabric Country of Origin: Made ethically with our new knitting partners in China.
Garment Production: This garment is produced at a factory located in Shantou SEZ, Guangdong Province, China, a modern and beautiful coastal city.
The wages are above the standard/minimum wage level. They provided a safe and leisurely working environment with social/ethical audits done by SMETA.
Sustainable Fabric Details: Our Viscose Knit is FSC® certified. FSC forest management certification confirms that the forest is being managed to preserve biological diversity and benefit the lives of local people and workers while ensuring economic viability. FSC-certified forests are managed to strict environmental, social and economic standards.
Care Details: Dry clean only.
FREE express worldwide shipping on all orders over $600 USD.
FREE standard shipping and FREE returns on all US orders over $250 USD.
Bio-degradable & compostable packaging.
For further information please read our shipping and return policies, located at the bottom of our site.

Radhika wears XS.
Model's measurements:
Height 5'9.5"
Waist 26"
Chest 32"
Hips 34"