Something went wrong, please contact us!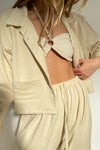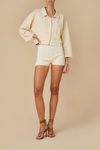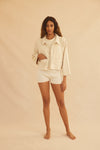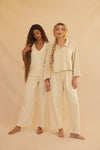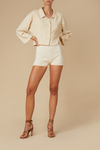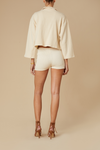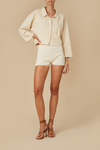 90'S BUTTON-UP BEIGE
$49.00
$198.00
FINAL SALE
Hemp & Organic Cotton

Comfortable, breathable, soft.
No pesticides, no plastic.
The 90s inspired crop features shell buttons and is designed to be worn with all of our basic bottoms for a relaxed but stylish look. Wear it en route to your next holiday destination or simply wear it with your favorite pair of jeans. We love to wear the button up with our new knitted shorts for a cute 90's look. After each wear and wash it will become even more comfortable, a wardrobe staple you will have for years!
Model is also wearing our Ribbed Shorts and Summer Top.
45% Hemp 55% Organic Cotton
Hemp - One of the most sustainable fibers on the market. 100% natural fiber, using only 1/20th the amount of water as regular cotton to grow and process. With antibacterial properties as well, hemp resists bacterial growth and breathes excellently, preventing odors. Hemp also protects your skin by naturally filtering UV light.
Cotton - Conventional cotton growth releases more toxins into our oceans, soil, and atmosphere than any other crop. It's for these reasons that we always choose organic cotton grown without the use of harmful chemicals or pesticides, our organic cotton keeps our oceans and environment clean and provides you, our customers with not only soft and high-quality fabric but peace of mind when it comes to their environmental footprint.
Made in Los Angeles at our Savannah Morrow sustainable production studio.
Machine washable.
FREE express worldwide shipping on all orders over $600 USD.
FREE standard shipping and FREE returns on all US orders over $250 USD.
Bio-degradable & compostable packaging.
For further information please read our shipping and return policies, located at the bottom of our site.
COLOR: Beige