Something went wrong, please contact us!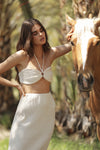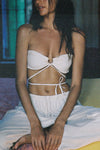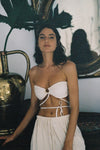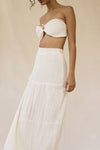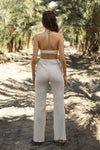 SUMMER TOP CREAM
$22.50
$145.00
FINAL SALE
100% Organic Cotton
The Summer Top features a gold brass loop and adjustable straps, The Summer top will be your new favorite, the perfect piece for your summer daytime events, wear into the night underneath our Indian Kimono and pair it with any of the Savannah Morrow bottom styles.
Model wears the Summer Top with the Jaya Skirt, Ahimsa Pants, Vidya Pants.
100% Savannah Morrow signature organic cotton.
Conventional cotton growth releases more toxins into our oceans, soil, and atmosphere than any other crop. It's for these reasons that we always choose organic cotton grown without the use of harmful chemicals or pesticides, our organic cotton keeps our oceans clean and land cleaner and provides you, our customers with not only a soft and high-quality fabric but peace of mind when it comes to their environmental footprint.
Our Savannah Morrow signature organic cotton texture is soft, lightweight, and has the perfect wrinkle to create a fuller look with little-to-no sheer. This material is not only organic but made by Indian artists on old handlooms, meaning no electricity has been used in the entire process, reducing our carbon footprint.
Made in Los Angeles at our Savannah Morrow sustainable production studio.
Dry clean only.
FREE express worldwide shipping on all orders over $600 USD.
FREE standard shipping and FREE returns on all US orders over $250 USD.
Bio-degradable & compostable packaging.
For further information please read our shipping and return policies, located at the bottom of our site.
COLOR: Cream