Something went wrong, please contact us!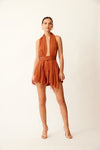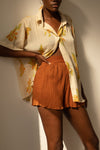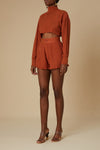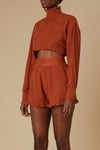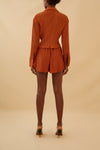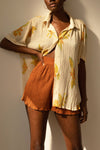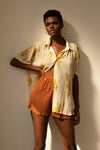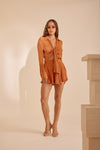 VERITA SHORT PAPAYA
$189.00
$270.00
FINAL SALE
50% Peace Silk and 50% Bamboo
Featuring a front zipper and button. The Verita short is double layered with side pockets and a slight flare at the leg opening for a flowing it.
Savannah Morrow signature 50% peace silk and 50% bamboo - 100 standard OEKO-TEX certified.
Our new peace silk and bamboo blend is hand crafted with our primary fabric partners in India. Savannah discovered a sample of the fabric hanging on a dusty mannequin as a shawl in an office room upon visiting in 2019. She was inspired by the fabric's texture, versatility, and depth. However, the early 90's fabric was a blend of silk & polyester. The SM team decided to design/develop a sustainable version replacing the silk for peace silk and the polyester with bamboo. We embarked on a 6 month journey in sample production to perfect our signature fabric.
The fabric is crafted from 50% OEKTO-TEX certified bamboo and 50% Peace silk. Woven on a mix of hand-looms and power-looms. It is light in weight and holds a beautiful texture with the wrinkle effect creating depth. The mix of peace silk with the bamboo creates a subtle shine accentuated by sunlight.
Read more about our fabrics here.
Made in downtown Los Angeles at our Savannah Morrow sustainable production studio.
Dry clean only.
FREE express worldwide shipping on all orders over $600 USD.
FREE standard shipping and FREE returns on all US orders over $250 USD.
Bio-degradable & compostable packaging.
For further information please read our shipping and return policies, located at the bottom of our site.
COLOR: Papaya