Something went wrong, please contact us!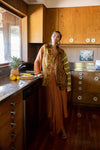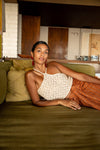 SUNSET SARONG MARIGOLD
$129.00
$160.00
FINAL SALE
10% Organic Cotton, 30% Peace Silk, 60% Bamboo - 100 standard  Oeko-Tex certified
Crafted in our new handloom pattern weave of Peace Silk + Bamboo brings out an eye catching shine. She will take you from the beach to the pool bar, featuring handmade tassels to sway with you. Wrap her as you wish.
Fabric Feel + Texture: Our NEW signature sustainable blend is handcrafted with our primary fabric partners in India. Woven on hand-looms with a detailed loom process creating a stipped pattern with the Silk and Bamboo yarn. creating a unique texture and giving an eye-catching shine. It is a delicate fabric and hugs the body with stretch.
The sustainable fabric blend comes in three colorways:
Indigo and Marigold are dyed with our new dying partners who are above board in sustainability and ethical production and use all certified and eco-friendly dyes.
Cream is completely the natural color of all the fibers and only water is used in the process.
Made in Los Angeles at our Savannah Morrow sustainable production studio.
FREE express worldwide shipping on all orders over $600 USD.
FREE standard shipping and FREE returns on all US orders over $250 USD.
Bio-degradable & compostable packaging.
For further information please read our shipping and return policies, located at the bottom of our site.

COLOR: Marigold