Something went wrong, please contact us!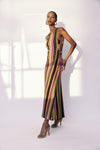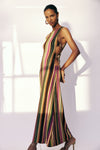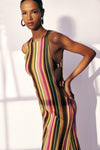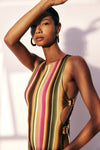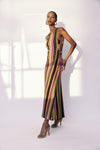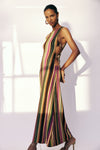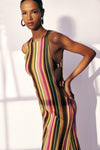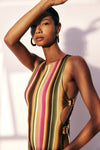 ROSALIA DRESS PRISM
$390.00
$650.00
FINAL SALE
100% Bamboo - OEKO-TEX® STANDARD 100 certified
Rosalia's high neckline conveys an ineffable level of class and refinement best characterized by european beach style. Symmetrical cutouts along the sides flatter the waist and allow ocean breezes to kiss the skin. Lightweight and breathable, this piece is made to move with you as you meander across cobblestone streets and sandy shores.
Fabric & Fit Details: Fabric is a medium-heavy weight interlock knit with stretch that will hug your body for a contouring look and feel. Fits true to size.
Fabric Content: 100% Bamboo - OEKO-TEX® STANDARD 100 certified
Fabric Country of Origin: Made by knitting partners in India.
Garment Production: Produced locally in LA at our in-house Savannah Morrow production studio next to our HQ.
Sustainable Fabric Details: Our bamboo is OEKO-TEX® STANDARD 100 certified and sourced from manageable farms. It requires zero fertilizers/pesticides to grow. Pesticides, especially in synthetic form, kill the microorganisms in the soil, robbing the soil of nutrients significantly decreasing its ability to feed the plants and control the water flow. Our bamboo keeps the soil free of such interventions, allowing it to naturally regenerate. As a result, bamboo needs significantly less water than most crops, such as cotton. Moreover, bamboo is a carbon dioxide-absorbing plant that helps to clean our atmosphere. Bamboo contains very high antibacterial properties. It utilizes thermal control through its hollow microfiber structure allowing it to be naturally warm, yet breathable. Bamboo is also one of the best fibers for absorbing wet moisture, comfortable & safe for your skin.
Care Details: Dry clean only.
FREE express worldwide shipping on all orders over $600 USD.
FREE standard shipping and FREE returns on all US orders over $250 USD.
Bio-degradable & compostable packaging.
For further information please read our shipping and return policies, located at the bottom of our site.