Something went wrong, please contact us!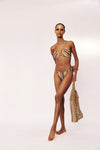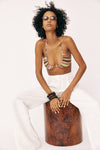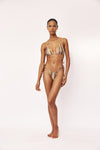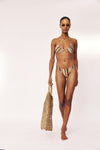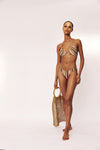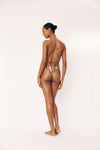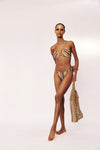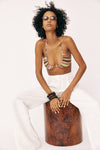 MAREA SWIM TOP PRISM
93% Microtencel, 7% Elastane
Made from our signature plant-based fabrics, the Marea top embodies elevated swim. Multi-wear for optimal functionality, the versatility Marea provides makes packing a breeze. Introducing our take on the classic swim halter, made with intentionality to be good for the planet, and look good on you.
Fabric & Fit Details: Fits true to size
Fabric Content: 93% Microtencel, 7% Elastane
Fabric Country of Origin: Spain
Garment Production: Produced locally in LA at our in-house Savannah Morrow production studio next to our HQ.
Sustainable Fabric Details: Bringing the power of nature to swimwear, PYRATEX® introduces the functionality of synthetic fabrics in an all-natural, wood-based renewable fiber sourced from sustainably managed European forests. This fabric embraces the body's every shape in a functional, skin-caring embrace with its contour-fitting behavior. The fiber is OEKO-TEX® certified. The renewable, wood-based fiber, developed with various tree species, including eucalyptus, spruce, pine, birch, and beech originates and is produced in Austria. All of the trees used to produce this fabric are grown in natural forests and sustainably managed plantations, without any chemical fertilizers or artificial irrigation. Close to 100% of the wood and pulp is FSC® or PEFC™ certified. The resulting fibers are fully biodegradable under soil and marine conditions, as well as compostable, and the water scarcity impact is 1.7 times lower than that of generic viscose fibers.
• OEKO-TEX® STANDARD 100 certified
• Fibers sourced from sustainably managed plantations
• Requires low water use: saves approximately 30 liters of water per meter*
• Saves 7kg of CO2 per meter*
• Saves 1.4g of PO4 (eutrophication impact) per meter*
• Minimally processed
• Breathable
• Anti-bacterial
• Anti-irritation
• Quick-dry
*Compared to regular cotton during fiber origin, dyeing, processing, and finishing.
Care Details: COLD HAND WASH. HANG TO DRY IN THE SHADE.
FREE express worldwide shipping on all orders over $600 USD.
FREE standard shipping and FREE returns on all US orders over $250 USD.
Bio-degradable & compostable packaging.
For further information please read our shipping and return policies, located at the bottom of our site.