Something went wrong, please contact us!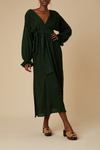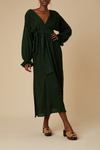 MAHRIA DRESS EMERALD
$137.70
$459.00
FINAL SALE
50% Peace Silk and 50% Bamboo
A customer favorite from our first ever collection has been brought back into the spotlight, now crafted in our peace silk and bamboo blend. The Mahria Dress features a plunging v-neck, full, elegant arms, and side splits to show just a little skin as you walk by. Featuring an elastic waist for a versatile fit with a removable belt. This dress can take you through several seasons, from spring - summer - autumn.
Savannah Morrow signature 50% peace silk and 50% bamboo - 100 standard OEKO-TEX certified.
Our new peace silk and bamboo blend is handcrafted with our primary fabric partners in India. Savannah discovered a sample of the fabric hanging on a dusty mannequin as a shawl in an office room upon visiting in 2019. She was inspired by the fabric's texture, versatility, and depth. However, the early 90's fabric was a blend of silk & polyester. With our fabric weavers in India, we decided to design and develop a sustainable version replacing the silk with peace silk and the polyester with bamboo. We embarked on a 6-month journey in sample production to perfect our signature fabric.
The fabric is crafted from 50% bamboo and 50% peace silk. Woven on a mix of hand-looms and power looms. It is light in weight and holds a beautiful texture with the wrinkle effect creating depth. The mix of peace silk with the bamboo creates a subtle shine accentuated by sunlight.
Made in Los Angeles at our Savannah Morrow sustainable production studio.
Dry clean only.
FREE express worldwide shipping on all orders over $600 USD.
FREE standard shipping and FREE returns on all US orders over $250 USD.
Bio-degradable & compostable packaging.
For further information please read our shipping and return policies, located at the bottom of our site.