Something went wrong, please contact us!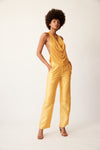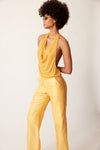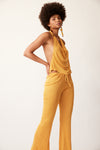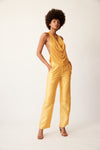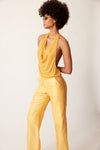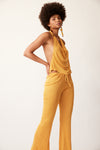 LIMA TOP SUNSHINE
$57.00
$190.00
FINAL SALE
100% Bamboo - OEKO-TEX® STANDARD 100 certified

Lima is crafted in a 100% bamboo knit giving her a luminous glow in sunlight. She features a long adjustable tie at the nape of the neck, purposely designed so you can have a low-cowl neckline or a high-cowl neckline with a cropped length. She matches perfectly with our Playa Pant for an easy, yet elegant vacation ready look.
Fabric & Fit Detail: The bamboo fabric is a lightweight, interlock-knit that creates stretch. She has an adjustable tie at the nape of the neck, so you can have a dropped neckline and a longer length shirt or a higher neckline with a more cropped length.
Fabric Content: 100% Bamboo - OEKO-TEX® STANDARD 100 certified
Fabric Country of Origin: Knitted with our knitting partners in India
Garment Production: Made locally in Los Angeles.
Sustainable Fabric Detail: Our bamboo is OEKO-TEX® STANDARD 100 certified and sourced from manageable farms. It requires zero fertilizers/pesticides to grow. Pesticides, especially in synthetic form, kill the microorganisms in the soil, robbing the soil of nutrients significantly decreasing its ability to feed the plants and control the water flow. Our bamboo keeps the soil free of such interventions, allowing it to naturally regenerate. As a result, bamboo needs significantly less water than most crops, such as cotton. Moreover, bamboo is a carbon dioxide-absorbing plant that helps to clean our atmosphere. Bamboo contains very high antibacterial properties. It utilizes thermal control through its hollow microfiber structure allowing it to be naturally warm, yet breathable. Bamboo is also one of the best fibers for absorbing wet moisture, comfortable & safe for your skin.
Care Details: Dry clean only. Can be lightly steam pressed.
FREE express worldwide shipping on all orders over $600 USD.
FREE standard shipping and FREE returns on all US orders over $250 USD.
Bio-degradable & compostable packaging.
For further information please read our shipping and return policies, located at the bottom of our site.