Something went wrong, please contact us!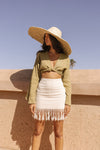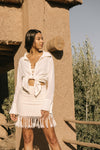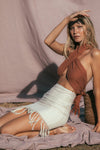 JASMINE SKIRT NATURAL
$79.20
$264.00
FINAL SALE
Made from a ramie knit, lined with cotton, and naturally dyed.
The Jasmine Skirt is handwoven using traditional weaving methods, taking hours to weave one piece. It features a hidden side zipper and handwoven tassels for a unique, elegant look. The Jasmine Skirt is lined with cotton so the ramie material has less stretch for a snug fit.
100% Ramie Knit, this delicate material comes from a natural source. Handwoven using traditional weaving methods and honoring the culture's traditions.
The Jasmine Skirt runs small, please size up and read the size guide for assistance.
A lightweight knit with handwoven tassels, double-layered and not sheer. The texture is soft and stretchy.
Made in Indonesia.
Dry clean only.
FREE express worldwide shipping on all orders over $600 USD.
FREE standard shipping and FREE returns on all US orders over $250 USD.
Bio-degradable & compostable packaging.
For further information please read our shipping and return policies, located at the bottom of our site.
COLOR: Natural