Something went wrong, please contact us!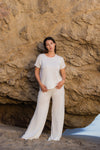 EVERYDAY PANT IVORY
We took the classic, high-waisted, loose-fitting pant and made it from smooth, silk-like fabric. Ours Features an elastic waistband for comfort. These will look great with any of the tops from the collection or a dressier piece in your closet. You can also wear them casually around the house or to bed.
These pants go beyond comfort, crafted with silk-like fabric, incorporating seaweed for additional skin benefits. Besides being anti-irritation and anti-bacterial, the material has antioxidant capacity eliminating free radicals while caring for the skin. Tested by an independent lab, the seaweed in the fabric is rich in essential substances such as vitamins trace elements, amino acids, and minerals.
Fabric Content: 66% Tencel®, 28% Seaweed-based fiber, and 6% Degradable Elastane.
Garment Production: Produced locally in LA at our in-house Savannah Morrow production studio next to our HQ.
Sustainable Fabric Details: This jersey is made with 66% Tencel®, 28% Seaweed-based fiber, and 6% Degradable Elastane. It has an anti-oxidative capacity which eliminates free radicals while caring for the wearer's skin. The seaweed comes from the Northern Atlantic, holding properties certified by European laboratories. It is pure and rich in essential substances such as vitamins, trace elements, amino acids, and minerals. The skin's natural moisture level enables an active exchange of these substances, activating cell regeneration, which in turn can help relieve skin diseases, reduce inflammation, and soothe itchiness.
The seaweed is harvested from the sparsely populated fjords of Iceland, in a gentle, selective, and sustainable process, which only removes the part of the plant that is able to regenerate.
Seaweed fiber is carbon neutral, produced in a closed loop with no chemicals released as waste, and is exclusively from sustainable raw materials using methods that save both energy and resources. The seaweed is washed, dried, carefully ground and added to wood cellulose nmmo solution: the positive properties of seaweed are permanently preserved within the final fiber, even after multiple washing cycles.
The Tencel® in this fabric is OEKO-TEX® certified and produced in Austria. It is a renewable, wood-based fiber, grown in natural forests and sustainably managed plantations, without using chemical fertilizers. Close to 100% of the wood and pulp used to create tencel® fibers is FSC® or PEFC™certified or controlled, and the fibers are compostable, fully biodegradable under soil and marine conditions.
Compared to cotton, PYRATEX® saves:
- 2 KG of Carbon Dioxide per meter
- 172 L of Water per meter
- 2 G of Phosphate Ion per meter
Benefits:
- SKINCARE: Seaweed contains amino acids, vitamins, and minerals beneficial for skin.
- ANTI-BACTERIAL: Eliminates bad bacteria in our skin, preventing skin infections and bad odor.
- ANTI-IRRITATION: Fiber is proven to be compatible with human skin cells.
- ELIMINATES FREE RADICALS: Captures reactive oxygen species, preventing them from interacting with the skin and damaging it.
FREE express worldwide shipping on all orders over $600 USD.
FREE standard shipping and FREE returns on all US orders over $250 USD.
Bio-degradable & compostable packaging.
For further information please read our shipping and return policies, located at the bottom of our site.

COLOR: Ivory