Something went wrong, please contact us!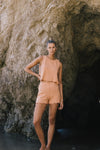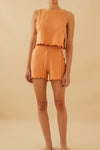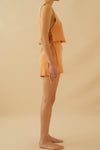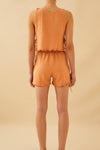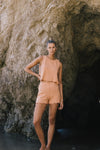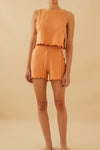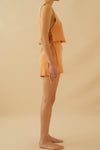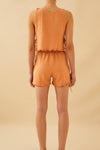 CORA SHORT PEACH
$47.80
$239.00
FINAL SALE
50% Ahimsa Silk and 50% Organic Cotton
The essential summertime shorts that are comfortable enough for the lounge and stylish enough for heading out.
Model wears the Cora Shorts with the Ava Top.
50% ahimsa silk (peace silk) and 50% organic cotton - our luxury peace silk and organic cotton blend.
What is peace silk? In short, it's letting the silkworms live their entire life without boiling them alive to turn their cocoon into silk.
The process of standard silk production is known as sericulture. Standard silk is made by mass cultivation of silkworms which are eventually then boiled and killed alive.
Silkworms are of a caterpillar type and while constructing their cocoon, the silkworm will twist in a figure-8 motion about 300,000 times and produce around 1 kilometer of fiber. Since the hatching from the cocoon destroys the thread, to harvest the silk, the cocoon with the caterpillar inside waiting to turn into a silk moth is placed in boiling water so the thread can come out in one continuous loop, meaning the little worm never got to use his wings as a silk moth and was boiled alive. It takes 1700 to 2000 cocoons to make 1 silk dress.
This brings us to Ahimsa Silk, Ahimsa means non-harmful in Hindu. Ahimsa silk is made by letting the silkworm live its full life, breaking through the cocoon to turn into a silk moth and leaving a hole in the cocoon, meaning the fibers are broken and it is not a continuous thread. This then makes the process of Ahimsa silk harder, slower, and more expensive to produce, but we believe every life, no matter how small it may be, is meaningful.
Made in Los Angeles at our Savannah Morrow sustainable production studio.
Dry clean only.
FREE express worldwide shipping on all orders over $600 USD.
FREE standard shipping and FREE returns on all US orders over $250 USD.
Bio-degradable & compostable packaging.
For further information please read our shipping and return policies, located at the bottom of our site.