Something went wrong, please contact us!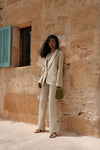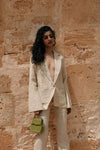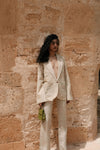 CAMERON PANT NATURAL
Crafted from our new signature Munga silk. Munga silk is a mixture of all the silk waste from our weaving partners. They mix Tussar Silk waste + Mung Silk waste + Mulberry Silk waste + Peace Silk waste to make this sustainably hand-crafted blend. The color of the yarn is totally natural, without any dye.
We pulled inspiration from the 90s to create the tailored Cameron Pant. The Cameron Pant features a front zipper and wooden button, creating an earthy look. She is designed to be worn high-wasted and slightly fitted. Size up for a more relaxed low-rise look. Cameron will be your new favorite sustainable pant that can be worn as a perfect suit set with the Cameron Jacket.
100% Munga Silk (silk waste)
Fashion has a big waste problem. Every second, we send about 1 garbage truck full of textile to the landfills. Already, our planet is showing signs that its capacity to handle so much waste is overflown. Not just used clothing, unused fibers and leftover yarn waste is a large contributor to overflow into landfills and our oceans. Our fabrics partners see the waste of yarn first hand and decide to use all their leftover silk waste to create our custom-made Munga Silk. Munga Silk is a mixture of all the silk waste they have. They mix Tussar Silk Waste, Munga Silk Waste, Mulberry Silk Waste, Peace Silk Waste and make a fiber. From this fiber, they make this lovely yarn. The color of the yarn is totally natural, without any dye.
Made in Los Angeles at our Savannah Morrow sustainable production studio.
FREE express worldwide shipping on all orders over $600 USD.
FREE standard shipping and FREE returns on all US orders over $250 USD.
Bio-degradable & compostable packaging.
For further information please read our shipping and return policies, located at the bottom of our site.


COLOR: Natural