Something went wrong, please contact us!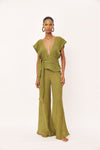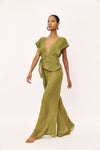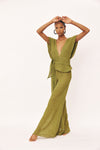 CALA PANT FERN
50% Turkish Cotton, 50% Turkish Linen
The Savannah Morrow High Summer collection is a love letter to European holidays and Cala is no exception. The Cala Pants are timeless, comfortable, and elegant, perfectly tailored to a body in motion. High-waisted and wide-legged, Cala will float you from beach to boat to bar effortlessly.
Fabric & Fit Details:  Our NEW Turkish Linen/Cotton fabric blend is light in weight and has a textured weave. Cala features an elastic waist. Fits true to size.
Fabric Content: 50% Turkish Cotton, 50% Turkish Linen
Fabric Country of Origin: Made on handlooms by our new weaving partners in Turkey. We choose to partner with fabric production artisans that use traditional, manual handlooms that don't require the use of electricity to preserve the art of fabric making, support small villages with generations of fabric-making knowledge, and also reduce our carbon footprint.
Garment Production: Produced locally in LA at our in-house Savannah Morrow production studio next to our HQ.
Sustainable Fabric Details: 50% Turkish Cotton, 50% Turkish Linen is softer than regular cotton, yet not heavy as some other materials. Turkish Cotton is held to be the highest quality cotton in the world. Its softness and durability come from the long fiber construction. It also allows for moisture-absorbing and quick-drying benefits. Linen is one of the oldest fabrics used in textile-making. The flax plant requires very little water and produces strong fibers that get softer with time.
Care Details: Hand wash in warm-cold water. Hang to dry. To keep the fabric fluffy and soft, add a natural fabric softener.
FREE express worldwide shipping on all orders over $600 USD.
FREE standard shipping and FREE returns on all US orders over $250 USD.
Bio-degradable & compostable packaging.
For further information please read our shipping and return policies, located at the bottom of our site.
COLOR: Fern