Something went wrong, please contact us!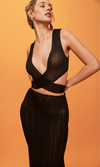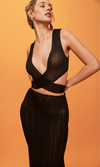 ALSISAR TOP BLACK
Crafted in our NEW Viscose Knit - FSC® certified
Alsisar's adjustable design gracefully contours your form, creating a flattering silhouette that exudes sophistication and sensuality. With it's adjustable wrap and subtle sheen, this garment speaks volumes towards it's wearer's individuality. Inspired by nights out, Alsisar's luminosity adds an ethereal quality to your ensemble, perfect for those moments when you want to glow from within. Pair with Alsisar Head Wrap Black.
Fabric & Fit Details: Features a cross-bust wrap with a lower back adjustable tie. Wear with skin-colored nippies for a seamless look. Fabric is soft and has a subtle sheen.
Fabric Content: NEW Viscose Knit -- FSC® certified
Fabric Country of Origin: Made ethically with our new knitting partners in China.
Garment Production: This garment is produced at a factory located in Shantou SEZ, Guangdong Province, China, a modern and beautiful coastal city.
The wages are above the standard/minimum wage level. They provided a safe and leisurely working environment with social/ethical audits done by SMETA.
Sustainable Fabric Details: Our Viscose Knit is FSC® certified. FSC forest management certification confirms that the forest is being managed to preserve biological diversity and benefit the lives of local people and workers while ensuring economic viability. FSC-certified forests are managed to strict environmental, social and economic standards.
Care Details: Dry clean only.
FREE express worldwide shipping on all orders over $600 USD.
FREE standard shipping and FREE returns on all US orders over $250 USD.
Bio-degradable & compostable packaging.
For further information please read our shipping and return policies, located at the bottom of our site.

Rosmary wears XS.
Model's measurements:
Height 5'9.5"
Waist 24.5"
Chest 33"
Hips 37"