Something went wrong, please contact us!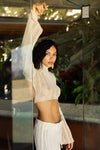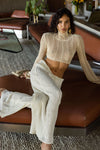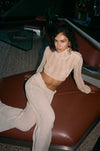 ZAMIA PANT IVORY
Crafted in 100% Peace Silk
We revived our best-selling pant, the Lucia Pant and recreated it using our new signature bamboo-peace silk fabric. Meet our Zamia Pant. Light and breathable for the summer heat waves. Zamia features a drawstring waistline for a versatile fit low-rise or high-rise fit.
Fabric & Fit Detail: Features a drawstring waist for a versatile fit on the waist or hips. The fabric is soft to touch and has a flowing nature. Fits true to size.
Fabric Content: Crafted in 100% peace silk
Fabric Country of Origin: Made on handlooms by our weaving artists in India. We choose to partner with fabric production artisans that use traditional, manual handlooms that don't require the use of electricity to preserve the art of fabric making, support small villages with generations of fabric-making knowledge, and also reduce our carbon footprint.
Garment Production: Produced locally in LA at our in-house Savannah Morrow production studio next to our HQ.
Sustainable Fabric Details: Peace silk - Standard silk takes 1700 to 2000 cocoons boiled alive to make one silk dress. Our fabric suppliers harvest the silk cocoons only after the silkworms have left the cocoon. No silkworms were killed in the process of making this garment.
Care Details: Dry clean or hand wash in cool-warm water. Light steam press. Due to the nature of this wrinkle fabric, it can expand with each wear. If you find some areas of the wrinkle have flattened out after being worn, the warm water/steam heat will contract the fibers back to their original wrinkle state.
FREE express worldwide shipping on all orders over $600 USD.
FREE standard shipping and FREE returns on all US orders over $250 USD.
Bio-degradable & compostable packaging.
For further information please read our shipping and return policies, located at the bottom of our site.
COLOR: Ivory