Something went wrong, please contact us!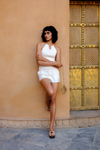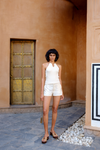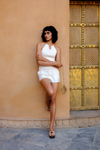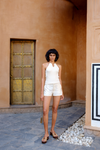 GOA SHORT CREAM
Crafted in 100% Rose Petal
Elevate your wardrobe with Goa, a garment that celebrates the artistry and heritage of handloom weaving. Adorned with a custom gold-plated button and a sturdy zipper closure, the fine detailing adds a touch of luxury to these versatile shorts. Made for the polished adventurer, these shorts can be dressed down for bustling city streets or up for brunch reservations.
Fabric & Fit Details: Goa features a custom gold-plated button detail and front zipper for closure. The fabric is silky smooth and light-weight. Handle with care. Intended to be a mid-low rise fit. Size down for a more fitted look and fit.
Our garments are entirely handmade. Since our fibers are natural and most of the fabrics are handwoven, there can be slight inconsistency within each garment. Slight color variations, slight spec difference (within tolerance) and fabric texture are normal. As much as we want our products to be 100% perfect and consistent, it's not always possible. We have learned to love these qualities as they mimic earth's own inconsistent, yet naturally perfect beauty.
Fabric Content: 100% Rose Petal
Fabric Country of Origin: Made in Turkey.
Garment Production: This garment is sewn ethically by our outsourced seamstress team in Delhi, India. This small woman-owned factory is an ethical and safe working environment for all employees and is GOTS-certified and compliant.
Sustainable Fabric Details: Crafted in our NEW Rose Petal fabric.
Rose petal fiber is made from the natural waste of rose petals and rose bushes cultivated without chemical fertilizer.
When the flowers from the bushes have finished flowering, the petals are harvested, ready to be turned into rose petal fiber. By working this way, pollinators can still collect pollen from the flowers when they bloom, so it doesn't impact nature's cycle.
Rose petal fabric is made of cellulose fiber. This fabric is eco-friendly, biodegradable and easy to dye. The fiber has been stripped and processed to create a luxurious and soft spinning fiber, similar to silk.
Care Details: This garment has a gold-plated button so we recommend dry cleaning.
FREE express worldwide shipping on all orders over $600 USD.
FREE standard shipping and FREE returns on all US orders over $250 USD.
Bio-degradable & compostable packaging.
For further information please read our shipping and return policies, located at the bottom of our site.

Dark hair model, Radhika wears XS.
Model's measurements:
Height 5'9.5"
Waist 26"
Chest 32"
Hips 34"
Blonde hair model, Rosmary wears XS. However, we would have fit her in a size S for a looser fit.
Model's measurements:
Height 5'9.5"
Waist 24.5"
Chest 33"
Hips 37"