Something went wrong, please contact us!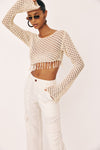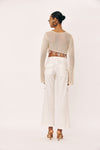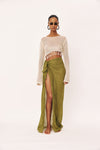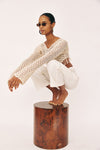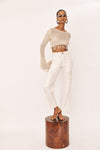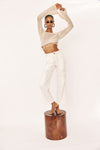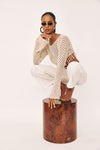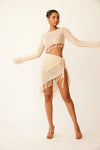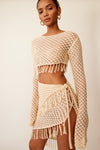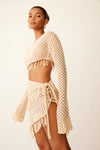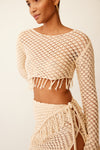 AMMOUDI TOP CREAM
Knitted in 100% Pima Cotton
A stunning knit top, Ammoudi's neckline drapes from shoulder to shoulder artfully framing the wearer. The knit fabric and fringe-lined hem work together to cultivate a summery ambiance, while long, draped sleeves add to the flow state of the piece. Striking when paired with its sister skirt, the Ammoudi's quiet confidence means it can stand all on its own as well.
Fabric & Fit Details: The weave of this knit is slightly open. Wear with skin-colored undergarments for an invisible, yet covered look. Fabric has stretch for a versatile fit.
Fabric Content: Knitted in 100% Pima Cotton
Fabric Country of Origin: Peru
Garment Production: Made in Peru with our knitting partners.
Sustainable Fabric Details:
Care Details: Dry clean or hand wash in cold water. Wring and lay flat to dry. Light steam press. Knits should always be folded and not hung up in the closet as it can stretch.
FREE express worldwide shipping on all orders over $600 USD.
FREE standard shipping and FREE returns on all US orders over $250 USD.
Bio-degradable & compostable packaging.
For further information please read our shipping and return policies, located at the bottom of our site.
COLOR: Cream