Something went wrong, please contact us!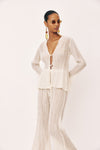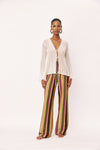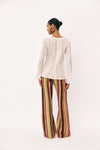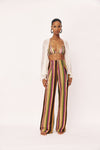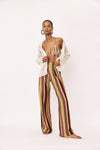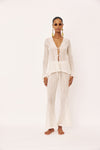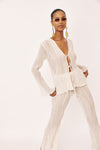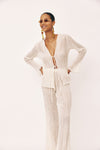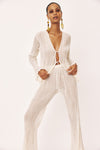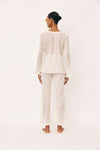 AMALFI BLOUSE IVORY
30% Peace Silk, 70% Organic Cotton
Amalfi features luxurious crinkled fabric with a flowy openness that creates a quiet drama. Wide sleeves and a delicate tie front define the structured top. Wear open over swim or tie it and let the piece speak for itself. Either way, heads will turn.
Fabric & Fit Details: Light in weight and breathable. The fabric's wrinkle effect creates a versatile fit. Fits true to size.
Fabric Content: 30% Peace Silk, 70% Organic Cotton
Fabric Country of Origin: Made on handlooms by our weaving artists in India. We choose to partner with fabric production artisans that use traditional, manual handlooms that don't require the use of electricity to preserve the art of fabric making, support small villages with generations of fabric-making knowledge, and also reduce our carbon footprint.
Garment Production: Produced locally in LA at our in-house Savannah Morrow production studio next to our HQ.
Sustainable Fabric Details: Our fabric suppliers harvest the silk cocoons only after the silk worms have left the cocoon. No silkworms are killed in the process of making this product.
• CRUELTY-FREE
• SOURCED FROM SUSTAINABLY MANAGED FARMS
• MINIMALLY PROCESSED
• MADE ETHICALLY BY OUR PARTNERS IN INDIA
Care Details: Dry clean or hand wash in cool-warm water. Light steam press. Due to the nature of this wrinkle fabric, it can expand with each wear. If you find some areas of the wrinkle have flattened out after being worn, wash in warm water and wring dry to regain the natural wrinkle.
Fabric Content:
Fabric Country of Origin:
Garment Production:
Sustainable Fabric Details:
Care Details:
COLOR: Ivory