Something went wrong, please contact us!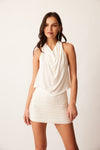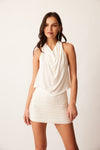 ALORA SKIRT IVORY
$147.00
$245.00
FINAL SALE
40% Hemp and 60% Bamboo - OEKO-TEX® STANDARD 100 certified. Lining is crafted in 100% Organic Cotton.

Designed as the sublime companion to any of our Spring/Summer collection tops, Alora savors the eternal allure of a summer escape. This mini-skirt sculpts to your silhouette for a show stopping appeal. Designed to sit low on the hips, pair her with a similar color for a monochromatic look, or dare to mix colors to create plenty of drama.
Fabric & Fit Detail: The Alora Skirt is crafted in two of the most sustainable fibers: a blend of hemp for long lasting strength and ultra soft bamboo fibers to create a silky smooth luxurious feel. She has little to no stretch with a cotton lining. Designed to be quite fitted and hug your curves. Designed to be worn just at the belly button. Please follow the measurement chart to find your perfect fit.
Fabric Content: 40% Hemp and 60% Bamboo - OEKO-TEX® STANDARD 100 certified. Lining is crafted in 100% Organic Cotton.
Fabric Country of Origin: Made on handlooms by our weaving artists in India. We choose to partner with fabric production artisans that use traditional, manual handlooms that don't require the use of electricity to preserve the art of fabric making, support small villages with generations of fabric making knowledge, and also reduce our carbon footprint.
Garment Production: Produced locally in LA at our in-house Savannah Morrow production studio next to our HQ.
Sustainable Fabric Details: Both hemp and bamboo require zero fertilizer/pesticides to grow. Pesticides, especially in synthetic form, kill the microorganisms in the soil, robbing the soil of nutrients significantly decreasing its ability to feed the plants and control the water flow. Our hemp and bamboo keep the soil free of such interventions, allowing it to naturally regenerate. Hemp and bamboo need significantly less water than most crops, such as cotton. Moreover, bamboo is a carbon dioxide-absorbing plant that helps to clean our atmosphere and hemp is one of the least harmful fibers to the environment. Bamboo contains very high antibacterial properties. It utilizes thermal control through its hollow microfiber structure allowing it to be naturally warm, yet breathable.
Care Details: Dry clean only. Light steam press.
FREE express worldwide shipping on all orders over $600 USD.
FREE standard shipping and FREE returns on all US orders over $250 USD.
Bio-degradable & compostable packaging.
For further information please read our shipping and return policies, located at the bottom of our site.

Model wears XS.
Model's measurements:
Height: 5'10 1/2
Waist: 25"
Hip: 34 "
Bust: 32"